Services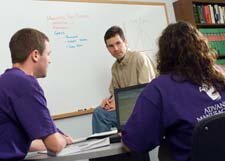 Product Design and Engineering
AMI specializes in helping you incorporate your new technologies or ideas into physical products that will meet and/or exceed the users' expectations. Our designers create new products that balance your requirements, innovative design elements, functional performance, aesthetic appeal and manufacturability. Our engineers use special modeling and analysis software—along with their knowledge of mechanical and electrical properties to specify materials, physical forms and control schemes for products, so that they will meet the applications and environments for which they are intended. Prototypes are created and tested through a variety of physical characterization methods and simulations of real-world applications and our team will support the transition of our work into a production environment.
Product Design and Engineering

User research
Product language and styling development
Platform development
Product portfolio strategy
Proof-of-concept development
Concept generation and development
Detail design and engineering analysis
Computational modeling/simulation
Product prototyping
Accelerated design verification, simulation and physical testing
Specification development and product planning
Manufacturing Process Development
Whether you need to develop a new manufacturing process or system to support a new product development project or your current processes are costly and inefficient, AMI has the people, knowledge and tools to get the most out of your manufacturing operations investment.
For new product introductions, AMI will work with you to apply the latest proven manufacturing technology and manufacturing concepts to ensure your production is responsive to the business needs of this new venture in terms of cost, quality and capacity. AMI will integrate market ready processing equipment, develop tooling or design and build unique equipment exactly to your specifications. In addition, we can develop computer simulations of new manufacturing systems, perform technology searches and collect supplier information, validate unproven manufacturing concepts, prepare job procedures, set up quality assurance programs and train your workforce to produce your new product.
Over the years, AMI engineers have worked in a wide variety of industries and been exposed to a number of best practices, and can adapt and extend these best practices to improve your daily manufacturing operations as needed. AMI will visit your facilities to analyze current practices, equipment limitations or "bottlenecks," processing conditions, and any process or product quality problems, and then develop a set of recommendations for improving the process. We have the resources to work with you at both a strategic shop-wide level or a tactical workstation level to meet your business needs.
Manufacturing Process/Systems Development

Custom equipment development and fabrication
Prototype fabrication
Tooling/fixture development
Pilot manufacturing
In-plant operations improvements
Company assessments
Facility planning
Lean manufacturing
Quality systems
Technology Development and Commercialization
As the pace of technology advancements quicken and product cycles compress, incremental technical change alone is not enough to guarantee sustained growth and financial security. To ensure success, AMI puts together teams of the best people (scientists, engineers, researchers, business experts, client advisors and end-users) with the right resources (equipment, software, facilities, grants, entrepreneurial funding and economic development organization funding) at the right time to launch innovative technologies into the most viable markets.
AMI works with established businesses, entrepreneurs and university researchers who have a new product or process idea to help them assess the opportunity and potential markets, then if the idea is feasible, assist with further development and commercialization. With our business planning, market research, design and engineering staff, our clients are assured a comprehensive and integrated approach to reduce risk and minimize development iterations so often associated with new commercialization efforts.
AMI will also work with you to assess your current and prospective markets, product strategies, and core competencies, then use this information to reach into the new technologies marketplace to identify prospective intellectual property that can be licensed and brought in-house to be the foundation for a new development and commercialization effort. AMI will be your strategic technology partner from start to finish.
Technology Development and Commercialization

Comprehensive market research
Competitive analysis
Applied technology research/benchmarking
Financial modeling
Intellectual property evaluation
Regulatory analysis
Manufacturing/Licensing option assessment
Assessment of resource funding options
Development of strategic marketing plans