Services - Economic Development
Bridging the Gap Between New Technology and Commercialization
Helping communities in your area to thrive is a big part of what you do. At AMI, we believe it's a big part of what we do as well. Our experienced team, Kansas State University faculty and top-notch student interns work to help companies extend their capabilities, develop new products, improve existing products, streamline processes, improve productivity and increase their profits.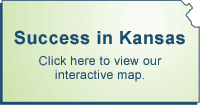 Enhancing Area Businesses, One Project at a Time
We strive to help businesses improve the development and commercialization of new products by assigning a dedicated team to help them define and achieve their goals. AMI helps businesses and entrepreneurs assess new product ideas, test the technical validity of concepts, characterize potential markets, assess economic feasibility, develop marketing strategies and commercialize products. We also provide a post-project analysis that helps us, and the companies we support, to learn and improve from our collaborative projects.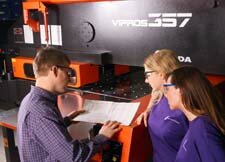 Connecting Students to Hometown Careers
The AMI intern program was designed to create an opportunity for companies to work with, and potentially hire some of the most talented students at Kansas State University. At AMI, the students take the skills they have learned within the classroom and apply them to a real-world job experience, under the mentoring supervision of experienced project managers. During the process, they become aware of job opportunities within the state while demonstrating their value to potential employers.
Keeping-Up with the Latest Technology, Skills and Information
In addition to bringing students and businesses together on real-world projects, we also provide training opportunities. Our experts offer businesses a variety of training options that keep employees up-to-date with the skills and knowledge they need.
Together, We Can Build a Stronger Economy
Thanks to our dedicated staff and economic development organizations like you, we can help up-and-coming and existing businesses, as well as entrepreneurs, develop and grown faster. We strengthen the economy of your area through efforts that help companies streamline and grow, we train engineering and business students to be effective in the world, and match them up with high-quality, high-paying careers with growing companies.
Services:

Recruit and evaluate prospective businesses

Technical assessment of products/processes
Conduit to Kansas State University resources
Assessment of efficiency/progressiveness
Initial planning assistance

Layout of new building(s) for optimal performance
Flow and throughput of product
Analysis and continued engineering support

Start-up assistance

Engineering/technical resource
Mentoring support
Technology training resource
Operational assessments
Assistance in securing public development funds
Technology strategic planning
Technical market research

Retention assistance

Product/process development and improvement support
Workforce training and development
Strategic level planning and support
Operational assessments
Establish manufacturing networks
AMI...Engineering Success.